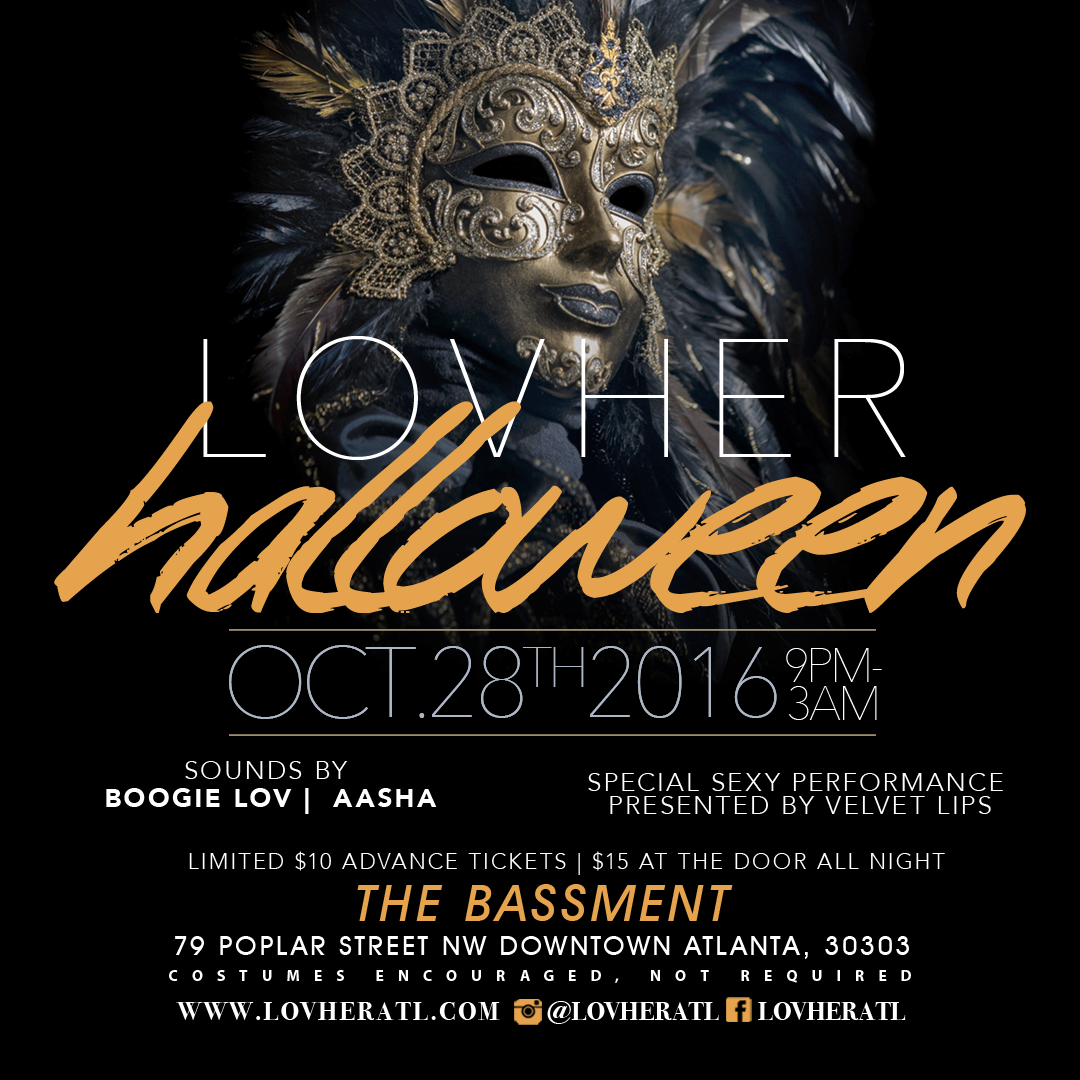 Halloween Weekend!
Hallows eve
Halloween is on a Monday so you know what means- I'm partying ALL WEEKEND LONG! Despite being raised in the church I'm very into Halloween…. I love costuming! It's like the one time of year I get to be myself in all of my strange quirky realness and no one can have shit to say about it. IT'S AMAZING! I thought I'd give a rundown of what's going on in Atlanta for the Urban Lesbian- yes I'm going to all of these parties- strategically dressed as 3 different VILLIANS from my youth. Below is the line-up and a blurb about each party. ALL PARTIES ARE COSTUME FRIENDLY NOT REQUIRED!
Friday
LovHer
Come experience a special evening designed just for you. Join LovHer for a sexy Halloween edition featuring special performances presented by Velvet Lips. Costumes are encouraged, but not required. Early arrival is strongly suggested to enjoy the evening's full experience.
Doors open at 9 P.M.
9:45 P.M. – 10:45 P.M.
Special Performances presented by Velvet Lips
10:45 P.M. – 12:45 A.M.
Sounds by Boogie Lov
12:45 A.M. – 3:00 A.M.
Sounds by AASHA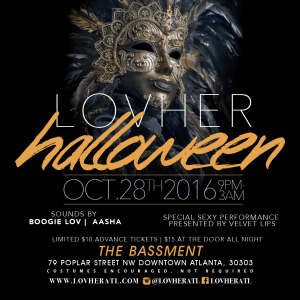 Saturday
Evening-
DJ Toni K presents: Playground Atl Halloween Edition! At Slice-75 piedmont rd.
5pm-11pm with one hour of commentary rum courtesy of Baron Spiced Rum
Featuring sounds by Toni K, Sha, and Vizions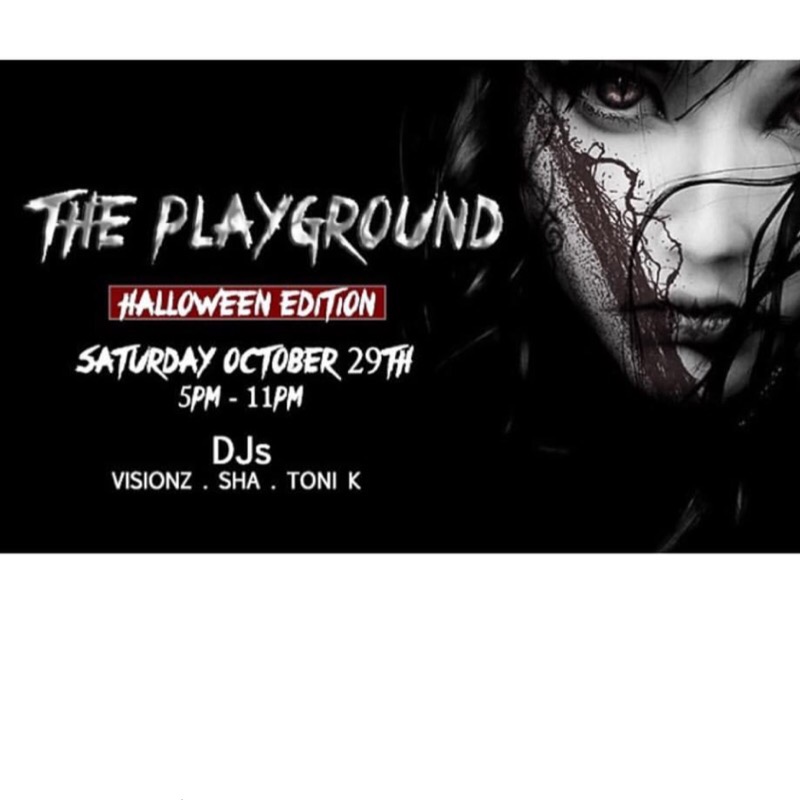 Night-TASTE
As always Taste will bring us an out of this world experience! If you've never been to Taste, where you been?, also- THIS WOULD BE THE ONE TO GET TO! If you're a regular you know this is finna be lit!
115 MLK jr dr (Copper Blue) 11pm-until
Featuring Boogie Lov, Aasha, and EllePhunkDelle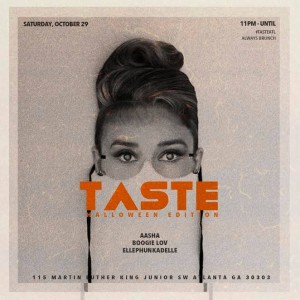 Sunday
Girls Love Mimosas presents…Girls Love Role Play!
A chic party in Atlanta's old fourth ward district (Delightful Eatz) for girls who love girls who love Mimosas. The Halloween edition is role play themed so
Costumes are recommended but not required. Our Halloween day party will feature live body painting and a drag show! Party with us on one of the sexiest rooftops in Atlanta on
Sunday October 30th

with your favorite female DJs Hourglass and Whitney Abstrakt hosted by Jersey Moulin.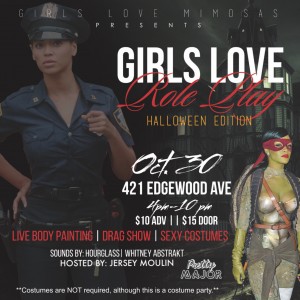 Monday (10/31)
She Deep Entertainment presents their premier party!
She Deep is a creative collective celebrating female sexuality and artistic expression through vibrant, LGBT friendly events. Although She Deep is in its infancy, its creators are known for their collaboration in Atlanta's Gay Pride, art scene and nightlife. Check out the next She Deep Ent event Halloween night for the 90s Costume Party! For more details follow @SheDeep_ent on IG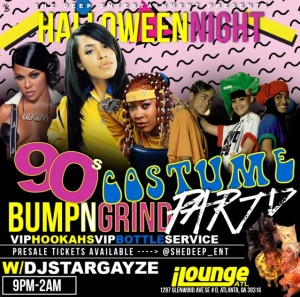 I can't wait to see yall this weekend!!
You May Also Like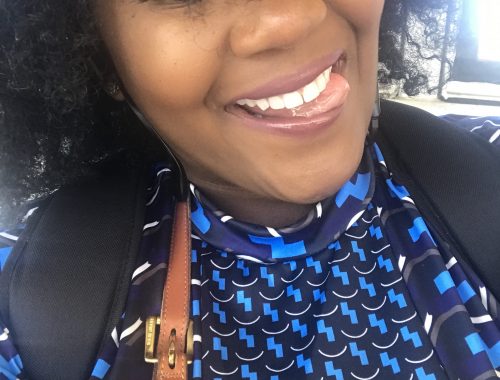 August 1, 2019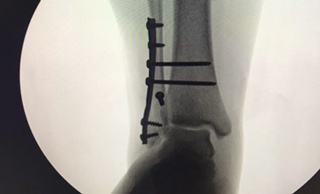 December 4, 2018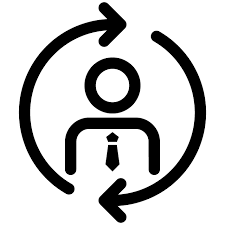 March 18, 2016